Redragon Draconic Pro review: A budget 60% keyboard with ALL the frills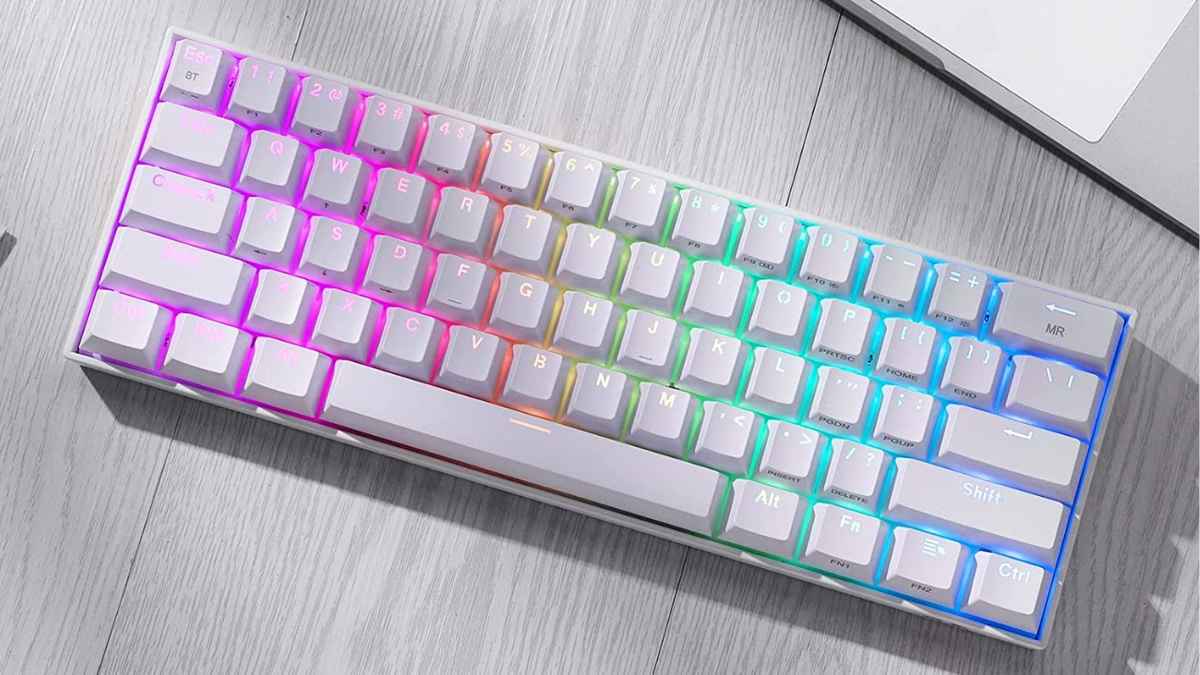 When it comes to budget gaming peripherals, few brands are as well known as Redragon. The Redragon K530 Draconic or Draconic Pro is the latest keyboard from Redragon, and at a price point of Rs 4490 (as of writing this on Amazon), it might not necessarily be considered a "budget" gaming keyboard. However, if you consider the number of features it has packed into it, you'll quickly realise that this is quite the deal, at least on paper. This is a 60% wireless keyboard, with both 2.4Ghz and Bluetooth pairing, pairing and switching between 3 devices, USB-C, doubleshot keycaps, and even the Outemu mechanical switches on this keyboard are hot-swappable! You see why this certainly looks like a great deal. How is the user experience though? That's what we're here to tell you.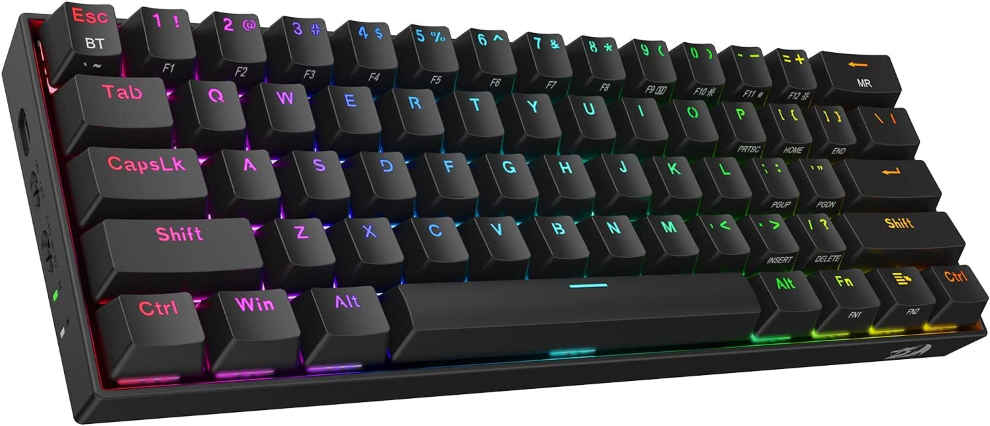 Build and Design
The Redragon Draconic Pro or K530 features a 60% layout; that's one layout size smaller than a TKL, so you have no arrow or function keys. Of course, that also means it takes up significantly less space on a desktop, which is the whole point of such keyboards. Coming to the build quality, the keyboard body is made with ABS plastic, and weighs in at around 610 g. But it does not feel cheap at all, it's up there with any other premium gaming brand's plastic keyboard offerings. There's no flexing or creaking when we attempt to twist or bend the keyboard. All of the ports are on the left side of the keyboard, this includes the USB-C port, the on-off switch and the paired device switch. You also have two LED indicators here for the battery and Bluetooth. Overall, the Draconic Pro borrows a lot of design aspects from Keychron's 60% keyboards, so if you're familiar with those, then you will feel right at home. Under the keyboard, you have two rubber feet near the bottom and two flip feet at the top corners if you prefer higher typing angles and a little slot to stash the 2.4 GHz wireless dongle. Very convenient.
Connectivity and Battery
The K530 Draconic Pro comes with BT 5.0 support and supports 2.4 GHz connections as well via the dongle. Of course, it can also be used in wired mode, while it's charging. They very conveniently provide a 2-in-1 cable which allows you to plug the keyboard into both USB-C and USB-A ports. In addition to that, you can pair with up to 3 devices at once with Bluetooth, keep in mind that only one connection can be active at a time though.
Coming to the battery, you've got a 1600mAh battery in this keyboard, which lasts around 5-6 hours with the RGB lighting on, and should last even longer with the lighting off.
Switches
The Redragon Draconic Pro came with Outemu Red switches. In terms of feel, it's not too different from Cherry MX Reds, like we've mentioned several times now, most budget switches are able to compare to Cherry MX in terms of overall feel. We personally prefer Red switches, and that's what the keyboard came with however, the keyboard is hot-swappable, so if you prefer brown, black or blue switches you can swap them in but it only supports hot swapping with other Outemu switches.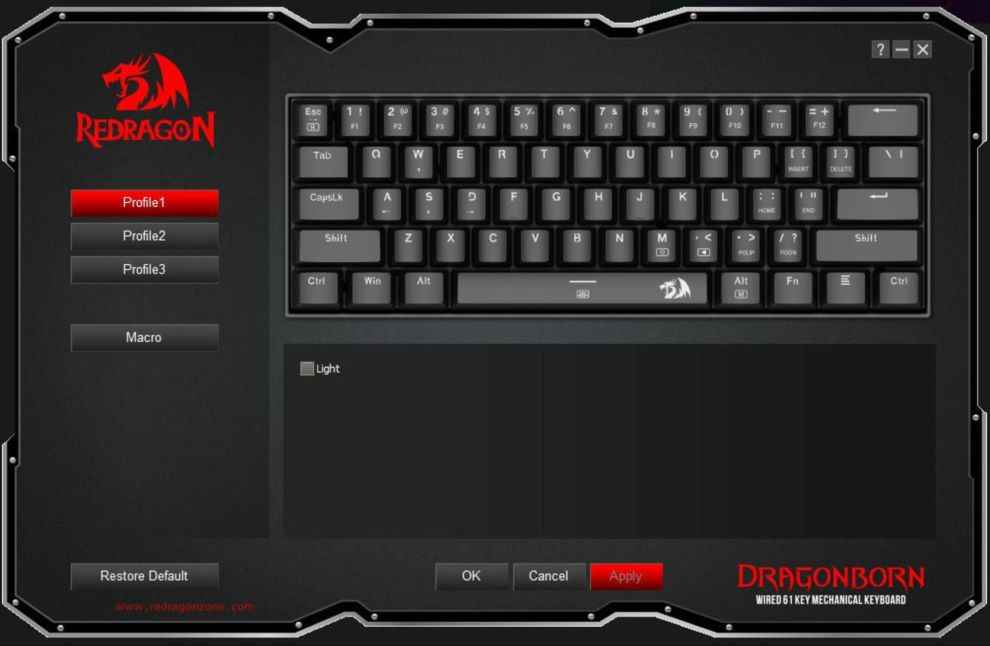 Keycaps
The Draconic Pro features doubleshot ABS keycaps. There are legends printed on the side of the keycaps as well for function keys. The keycaps fit securely on the switches and feel well-built overall.
Software
There is accompanying software, which can be downloaded from Redragon's official website. Here you have three on-board profiles to mess around with. Here you can remap certain keys or set up macros and media functions. You can also adjust lighting here, the software has up to 13 lighting modes and a Magic FN option, which allows you to use the caps lock key as the fn key when held down. However, this can be a bit finicky at times.
Verdict
As we mentioned in the intro, as far as 60% of keyboards are considered, the Redragon K530 Pro or Draconic Pro comes with all the features you'll need. That being said, the typing experience was not the best we've had on a mechanical keyboard but it wasn't the worst either. Additionally, the software could use some work as well, as it stands right now it feels a bit lacking and unintuitive. Nevertheless, if you're in the market for a 60% keyboard with all the features on a budget, this is your keyboard